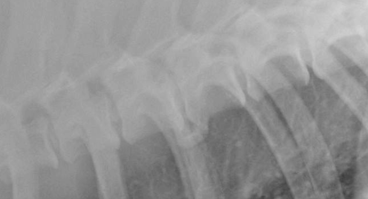 View:
Lateral

Defining characteristics:
Bony bridging across intervertebral disc spaces

Common differential diagnoses:
Chronic IVDD, age-related changes


Helpful additional data:
Has any pain been noted while eating or going up and down the stairs, or other movements? If the patient is a cat, any inappropriate urination?


Commonly associated diagnostics:
A thorough orthopedic and neurologic evaluation.


Commonly associated treatments:
Analgesics, joint supplements, modification of lifestyle to avoid jumping up/down.


Commonly associated home care:
Ramps, elevated food/water bowls, etc.